---
Maui Auto Rental Categories
How Do I Pick the Right Car Class?
Choosing the right car among all the Maui Auto Rental Categories is sometimes overwhelming. There's a lot of choices available.
And even if we all look for the best rates, we all want to make sure that the car we rent for our dream vacations is comfortable and offers enough room for all our luggage.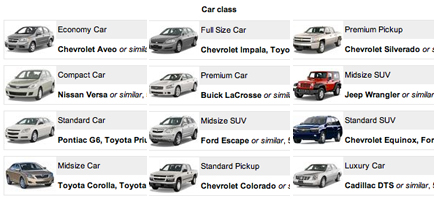 Choosing the right car rental class is not always easy...
(screenshot from Expedia.com)
When comes the time to sort the Maui Auto Rental Categories, I use 4 main criteria.
Let me show you how these criteria influence my decision. Hopefully, this process will help you find the car that is best suited for YOUR specific needs.
4 Criteria to Consider
Number of passengers
Luggage size
Mileage
Budget
Already know what car to pick? Find how to get Cheap Maui Hawaii Car Rentals here or get more specific answers to your Maui Car Rental questions here.
1. Number of Passengers
It's probably the most important criteria since it's your natural starting point. You won't rent the same car if you are traveling alone or with your entire family, right?
Online agencies usually indicate the maximum number of passengers allowed in each car. They may also specify the number of adults and kids.
Expedia.com displays this info right beside the car model info (see screenshot below). Other travel agencies may use icons.

Travel agencies usually indicate the maximum number of passengers
allowed in each car (screenshot from Expedia.com)
You need to be very careful with this information. Remember that this is an indication of the maximum of people that can sit in the car, not an indicator of the actual 'level of comfort'. It doesn't take in consideration luggage either (more on this below).
As a rule of thumb, when choosing your Maui auto rental category always count one person less than the max suggested to get enough room and comfort.
But also take in consideration the mileage you plan to do. If you plan long trips, you need extra comfort.
On Maui, you should not plan very long drives. It's a small island and the beauty is outside the window. Don't try to explore Maui all at once. Take your time. Discover it's beauty slowly. You should plan a lot of stops to relax, enjoy the view, feel the cool wind, picnic...
Also, consider the age of your passengers. Kids will be able to sit comfortably in the back of a small car while older people might find it very uncomfortable.
2. Luggage Size
Obviously, this criteria is closely linked to the number of passengers. But it's not directly proportional. It also depends of your 'travel style' and the length of your stay.
If you are a 'light traveler' keeping everything you need in one small backpack, you'll be just fine following the indications provided by the travel agencies. Have another look at the screenshot above. It indicates the number of large suitcases and carry-ons recommended for each car model.
If you are traveling 'heavy' or with the entire family, you may be careful and look for extra luggage room. Snorkeling, diving and photography gear can also add-up pretty quickly.
And what about you getting married on Maui? Your luggage might go from big to gigantic!
You also need to consider this: will you stay at the same spot all your vacations or move often?
I usually rent up to 3 to 4 houses or villas during a 2-3 weeks stay in Maui so I can enjoy different parts of the island without having to drive like crazy.
This implies that I must move at least every week with all my luggage. My Maui auto rental's trunk needs to provide enough room so I am not frustrated every time I have to pack.
If you stay at a resort your entire vacations, having to pack your luggage in your car only twice (from and to the airport), you might be fine with having to do a little more 'contortions'.
It really depends of YOUR specific situation. Simply take relevant advice into consideration when you choose you Maui auto rental category.
If you are still hesitant to rent a car, don't waste one more minute: visit this page and this one too. And if you are still unsure, visit this page as well. And promise me you will rent a car at the end... It is an absolute must to discover Maui's wonders!
3. Mileage
Why talk about mileage?
Because mileage is directly linked to gas consumption. And nowadays, gas is getting more and more expensive. Especially in Hawaii where the average gas price is usually the highest in the US.
It's not that terrible compared to gas prices in Canada or Europe, but it can have a visible impact on your budget if you don't rent a fuel efficient car. It all depends on the total distance you intend to drive.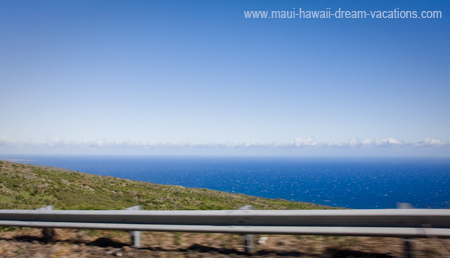 Driving along the beautiful Southeast Maui Coastline
Like this Photo? Bring Maui Home - Order Prints or Greeting Cards
Let me give you an example with 2 very different Maui auto rental scenarios. You will understand what I mean.
Lets consider a 2-week vacation to Maui Hawaii.
The low-mileage scenario
On one hand, you stay in the Kihei area and you use your car for less than an hour (30 miles) a day in average. Only to go to the grocery and visit a couple of close-by attractions.
We are talking about a total of 420 miles (14 days X 30 miles)
The high-mileage scenario
On the other hand, you stay in Hana on the far East side of Maui and plan to visit the whole island. Every time you want to come visit the Upcountry, the South or the West it takes you at least 2 hours to come and go plus the drive to the specific area you want to visit. Add to this some stops at the grocery, going from and to the Kahului airport, etc.
Now we are talking about a total of 2 100 miles (14 days X 150 miles)
The Results...
On the low mileage scenario, at around 4 US$/gallon, a 35 mpg (miles per gallon) Economy or Compact Car will cost you 48$ (420/35*4). While a 12 mpg Large SUV or Full-size Luxury Car could cost you around 140$ (420/12*4)
It's 3 times cheaper (48$ compared to 140$) with a fuel efficient car. But with only 420 miles, it's not much of a difference.
The high-mileage scenario is a bit different. While an Economy Car will cost you 240$ on gas (2100/35*4), a Large SUV or a Full-size Luxury Car may cost you up to 700$ (2100/12*4)! It's a 460$ difference.
Considering that your two weeks Maui auto rental will most likely cost you between 500$ and 800$ (depending on the car category), that means that you could actually spend more on gas then on the car itself.
That being said...
You most probably won't follow this high-mileage scenario and you should not worry too much.
My point here was only to make sure you consider every criteria when choosing your Maui auto rental category so you stay away from bad surprises.
Simply pick the car that is right for your needs. Usually, if you need a big car or if you decide to drive long distances, you have good reasons to do so and you know it's going to cost you extra dollars.
4. Budget
That leads us to the last criteria...
This one is rather straightforward:
If you are on a tight budget, stick to the precedent advice and choose the smallest (cheapest) category that fits your needs based on the minimum requirements. See more tips on how to get the best rates available on your Maui auto rental here.
If budget is not your absolute first priority, you may want to add extra comfort and go for one category above the minimum requirements.
This way you still get good rates based on your needs but you also get some more luxury, room and comfort.
If money is not an issue and you want to add a special flavor to your dream vacations, you may want to check for a convertible, a 4X4 or a luxury car.
Ready to book your car?... Let's go!
---