---
Maui Hawaii Car Rentals
Discover the Island at Your Own Pace
It's hard not to talk about Maui Hawaii Car Rentals when planning a trip to beautiful 'Valley Isle'. Once your flight is booked and you know where to stay, transportation is your next item on the list.
The same general question keeps coming back: Is a car needed to visit the island? And my answer remains the same: yes it is!
There is simply no better way (aside hiking!) to explore Maui and 'taste' the diverse flavors of the island.
Already convinced that you need a car? Find how to get Cheap Maui Hawaii Car Rentals here or get more specific answers to your Maui Car Rental questions here.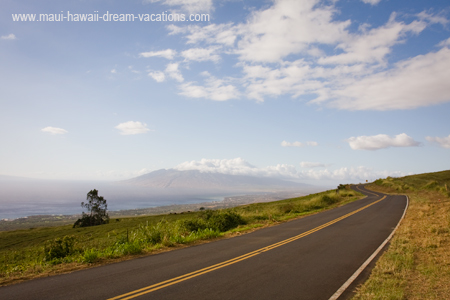 Avoid crowds driving at your own pace
on great scenic roads like the Upcountry Kula Road
Like this Photo? Bring Maui Home - Order Prints or Greeting Cards
Avoid Crowds
It is nearly impossible to embrace Maui's unique vibe in an overcrowded tour bus, one tourists spot after the other.
If it's your only option, that's fine. It's better then not seeing the island at all...
But if you can rent a car and explore the island by yourself, do it!
Maui's true beauty resides in its natural wonders which are spread in dozens of secluded spots. Your car will quickly becomes your best friend.
Many Maui's natural wonders can only be explored
with your own car like this beautiful natural arch hidden on
the secluded Southeast shore of the island
Like this Photo? Bring Maui Home - Order Prints or Greeting Cards
If you plan on using the Public Bus Service to visit the island, you might be a bit disappointed. The Maui Public Bus System is very basic and you should not count on it as an efficient way to explore the island. Don't count on Taxis either. You would spend a fortune just trying to get to the next great waterfall...
Drive Without Stress
Maybe you feel a bit insecure to drive in a new environment
Don't feel bad. You are not alone. It's always intimidating to drive on roads you don't know.
The good news is Maui (like all the Hawaiian islands) is an island of paradise for tourist drivers. Here on Maui, no complaints against your slow driving. No car horn usage... (but to greet a friend!)
Driving is a true pleasure in Hawaii.
If you notice a long line of cars behind you, just be polite and slowly pull off the road to let the locals go their way while you enjoy the scenery.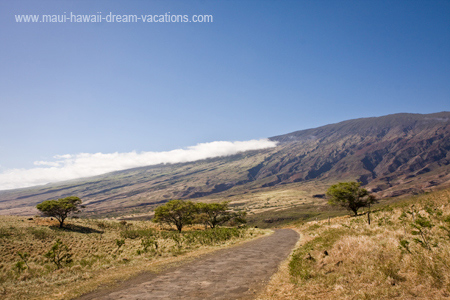 Don't be scared of unpaved roads in the Southeast part of the
island past Hana. The scenery is breathtaking and totally crowd-free.
Like this Photo? Bring Maui Home - Order Prints or Greeting Cards
Getting lost is not a concern either. The island is pretty small and there are not that many roads. No GPS needed here. A good map will do. You can be sure that asking for direction will result in a friendly answer with a cool smile in bonus. Aloha spirit in action.
And don't worry about road conditions. Even if you are on a tropical island, you still are in the United States. The roads are safe and paved.
There are a few exceptions. In Southeast Maui, past Hana, the road can become impracticable during heavy rain. Just don't go there if the weather conditions are not good. Ask the locals. Also note that off-road driving can cancel your car rental insurance coverage. Use your judgment.
There are also some narrow and winding scenic roads like the Road to Hana itself and the road past Kapalua in North-West Maui.
These roads are breathtaking. All you have to do is drive very slowly like everybody do. No danger. Big reward. Don't miss these parts of the island!
Ready to Rent Your Car?
Find how to get Cheap Maui Hawaii Car Rentals here.
Or, get more specific answers to your Car Rental Questions here.
---