---
Maui Pictures
Maui Hawaii Magic Moments
In the past few years, I gathered thousands of Maui Pictures, literally. I stopped counting. I know, it's a lot. But I LOVE photography, especially travel photography. And I just can't stop taking pictures.
I think it has something to do with the incredible effect pictures have on me. Each of them bring back strong memories. Memories that make me smile. Memories that make me want to go back on exploring the world. Memories that simply make me feel alive!
I am pretty sure you experienced this kind of feeling too. In your own way. Pictures are very powerful.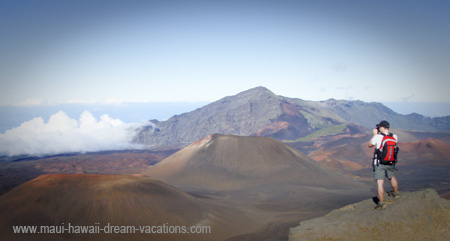 This is me, on top of the Haleakala volcano, enjoying the breathtaking view
but totally exhausted after a 14-miles hike in the crater.
An unforgettable Maui moment I shared with my girlfriend
(who was busy taking this awesome picture!)
The Pleasure of Sharing Special Moments
My girlfriend Caroline and I have tons of Hawaii adventures we keep talking about, again and again. The first thing we do when we start remembering those special moments is rush to our computer or turn on the Apple TV to look at our Maui photos.
Vivid memories come to life instantly and we are back on the beautiful valley isle once again.
We love sharing those moments together. It's like going back to Maui without having to book tickets. Talk about a cheap way to experience Hawaii!
I am sure you will agree on that: there is no better way to share a passion with others than through photographs.
Let's Share!
I thought it would be great to set a few pages to do just that: sharing Maui Magic Moments caught in photos.
It's fun. It's free. It's easy.
Here are some of my favorite topics. I will add more over time.
I will start the sharing with some Maui pictures of mine. But I know you have plenty to share as well. So click on the links below and don't hesitate to share your magic moments.
Maui Pictures
Pick a category and share YOUR magic moments!
Looking for Large Format High-Quality Prints?
If you like one (or many) of my pictures of Maui Hawaii, you can order High-Quality Prints right from my website.
Choose from a large variety of Standard Prints, Framed Prints, Canvas and even Custom Greeting Cards. I made it very simple for you to order.
All you have to do is visit My Photo Gallery, choose the photograph(s) you like, select size, frame style, etc.
Thanks to Fine Art America, your transaction will be processed safely and seamlessly in seconds and your prints will be shipped directly to you. Today's technology is awesome. Isn't it?

Maybe you are looking for Original High-Quality Photo File
The Maui pictures I share on these pages are displayed in a small format (to keep fast page rendering). If you are interested in getting a high quality version of one or several of them, you can find my best photo work on the following stock agencies:
Follow one of these links and you will be able to download whatever pictures you like in seconds and for a very low fee (Royalty Free).
---