---
Share Your Favorite Maui Sunset Picture or Video
Sunset Paradise
Every Maui traveler comes back home with his own favorite Maui Sunset Picture. It's a classic.
Why?
Because once you've witnessed the beauty of these Maui sunsets, it becomes nearly impossible to resist the need to take dozens (if not hundreds) of photos.
You start thinking it might be the last time you see something like this and you have no choice: you need to catch the moment!
The good news is Maui sunsets happen every day, between 6 pm and 7 pm. They are completely free, thanks to mother nature! And they touch your heart and soul every single time.
They are like a miracle cure... Instant relaxation. Instant peace.
No wonder why so many people in the world wish they could see at least one in their lifetime.
My Favorite Maui Sunset Pictures
Seeing a picture, a slideshow or a video is not like being there. But it is still a great reminder of Maui's natural beauty.
Here is my favorite Maui Sunset Picture along with a couple more I like. And if you prefer to watch a video, scroll down a bit and have a look at a short Maui Sunset Slideshow I created.
Enjoy!
Go ahead and share YOUR favorite Maui Sunset Picture or Slideshow/Video. And tell us when and where you caught this magic moment.
My First Pick: Makena Maui Sunset
I love this one for a simple reason. Its authenticity.
Everything felt just right. We had a perfect day, hiking some great trails. We came at the beach to rest before dinner.
We were almost alone. A young girl was playing in the shallow water, her mother quietly looking at her, enjoying the sunset (I guess as much as we were). A true vision of paradise.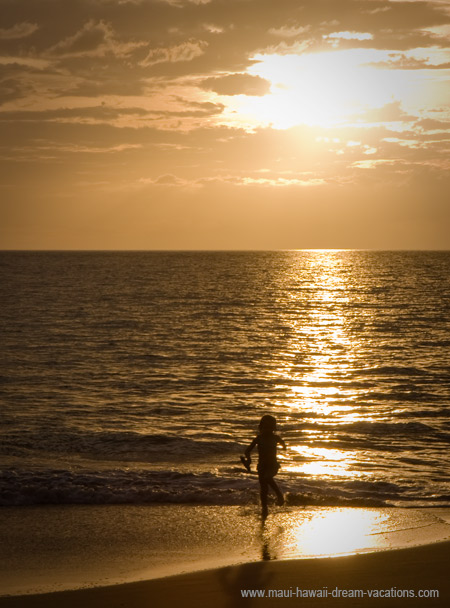 A young girl is playing on the beach as the sun
sets on Makena, Maui Hawaii.
Like this Photo? Bring Maui Home - Order Prints or Greeting Cards
Maui Sunset with Stunning Clouds
Nothing beats a sunset with a cloudy sky.
I happened to be relaxing on the Spreckelsville beach when a series of clouds started forming along the coastline.
The pattern was beautiful and the warm light of the sun, caressing the base of the clouds, made the scene unforgettable. I had to take some pictures.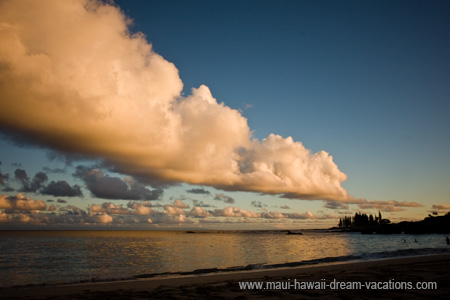 Beautiful clouds painted by the yellow teint of the sunset light
Spreckelsville Beach, Maui.
Take Home Maui - Buy Prints or Greeting Cards
Maui Sunset on the Majestic West Mountains
We often talk about Haleakala Volcano. This is a true wonder. But Maui West Mountains, crowned by the Pu'u Kukui Summit raising at 5,788 feet, also offer breathtaking views.
I took this picture from the Kula Road, on our way back to Makawaho, after a long drive around the volcano.
How peaceful is that?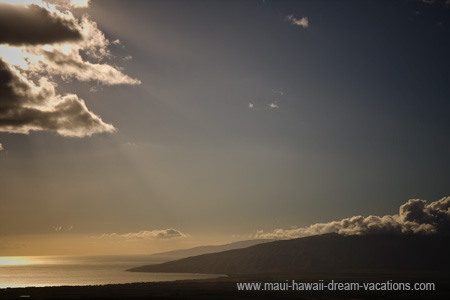 A scenic view of the amazing Maui West Mountains by sunset.
Take Home Maui - Buy Prints or Greeting Cards
Maui Sunsets Slideshow
Pictures are awesome. No doubt about it. But sometimes, a short video/slideshow can complement the experience in a great way.
I created this video to showcase some more Maui sunsets I like. Check it out and turn the volume on (I added some music as well).
Don't hesitate to share the video if you like it. And make sure to post your own sunset pictures and videos below. Can't wait to see them!
Looking for Large Format High-Quality Prints?
If you like one (or many) of my pictures of Maui Hawaii, you can order High-Quality Prints right from my website.
Choose from a large variety of Standard Prints, Framed Prints, Canvas and even Custom Greeting Cards. I made it very simple for you to order.
All you have to do is visit My Photo Gallery, choose the photograph(s) you like, select size, frame style, etc.
Thanks to Fine Art America, your transaction will be processed safely and seamlessly in seconds and your prints will be shipped directly to you.

Maybe you are looking for Original High-Quality Photo File
The pictures of Maui Sunsets I share on this page are displayed in a small format (to keep fast page rendering). If you are interested in getting a high quality version of one or several of them, you can find my best photo work on the following stock agencies:
Follow one of these links and you will be able to download original Maui Sunset Pictures files in seconds and for a very low fee (Royalty Free).
Share YOUR Favorite Maui Sunset Picture or Video/Slideshow
Capturing a magic moment on photo or video is wonderful. Sharing this magic moment with others is even better.

Share your favorite Maui Sunset Picture here or, even better, submit a Slideshow or Video. Simply grab the embed code and paste it. And don't forget to tell us why this moment is a special one for you.
Read and Comment Other Favorite Maui Sunset Pictures and Videos
Click on the links below to see some great Maui Stories, Pictures and Videos. They were all written, taken and created by other visitors to this page.
Wailea Sunset Pictures

All pics of sunset of the Wailea Coast.
---