---
Maui Newsletter
Get the Best of Maui Hawaii Straight to Your Mailbox
Maui Hawaii Dream Vacations content is constantly growing bigger and bigger. The Maui Newsletter is a great way to get the best of Maui right in your mailbox, every month.
And you know what?
It's free!

So, don't wait any longer and subscribe!
Use this simple form right below. It takes 5 seconds and you're done.
Please note that your security and privacy are very important to me. Your name and email address will be used exclusively to send you the Maui Newsletter.
Bonus: Receive a Free Maui Wallpaper!
By filling the form above, not only will you receive the free Maui Newsletter in your mailbox, but you will also get a little extra. This is a way for me to welcome you in the Maui Hawaii Dream Vacations family.
What's this bonus all about?
It's an exclusive Maui wallpaper coming right from my personal photo library. You won't find it anywhere else.
It's there for you to bring Maui's beauty on your desktop. If you are like me, you'll love to get a gorgeous reminder of your favorite destination every time you stare at your computer. Makes me feel like the warm and peaceful spirit of the island is not too far away...
And since you may like different faces of Maui, I'll let you download up to 3 Maui wallpapers for free. Choose your favorite or get them all! It's yours to enjoy.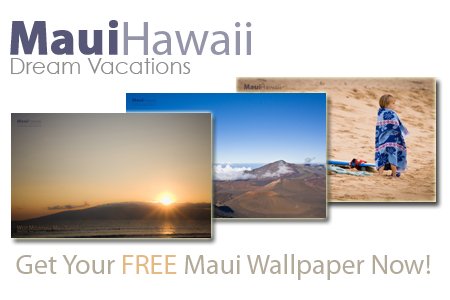 All you have to do to get your bonus wallpaper, is to follow the 4 easy steps described below.
How to get your Free Maui Wallpapers
Fill in the form above. You will be brought to a Thank You Page.
Wait for an email from me (Denis Dore) asking you to confirm Your Maui Newsletter Subscription.
Click on the link provided in the email.
Once at the Confirmation Page, the Free Wallpapers will be there for you to download. Enjoy!
Let's subscribe to the Maui Newsletter and get your free wallpaper!
After completing the form, you will receive an email asking you to confirm the address given just to be sure someone did not submit your email address without your knowledge.
What's in The Maui Newsletter?
Wondering what you'll get in the Maui Newsletter?
A lot of great stuff!
Each month, I make sure to share with you Featured Travel Tips and Advice, Exclusive Maui Pictures and Maui's 'Deals of the Month'.
In every issue, I will highlight a selection of articles featuring valuable tips and advice to help you plan your dream vacations to Maui Hawaii. Maui car rental, flight tickets, weather conditions, travel stories, best things to do, must-sees, news and events, Maui FAQ's and more.
I will cover every subject that can help you turn your trip to Maui Hawaii into a dream vacation.

We all look for unique souvenirs to bring a bit of Maui home. Right? What could be better than a stunning picture of Maui on your wall?
On top of progressively adding new Maui wallpapers for you to download, I have created a series of high-quality Maui Hawaii Posters to answer the demand I keep getting from Maui lovers like you. I will share these images with you, 4 at a time, each month.
These exclusive images will be available in different sizes and formats, from greetings cards to large posters.
You will be able to order images in 'standard print' format, on canvas or even get it framed for a very professional finish. Everything will be processed on-demand, online, and delivered on your doorway in a couple of days.
I believe there is no better way to bring a little piece of Maui into your home... or into family's and friends' heart... as a simple present.

Saving a little money while planning our trip to beautiful Maui Hawaii is something we all try to achieve.
In each issue of the Maui Hawaii Dream Vacations, I will share special promo codes or coupons you can use to keep extra money in your pocket. Subscribing to the Maui Newsletter is your best way to make sure that you don't miss any opportunity to save hard-earned dollars on your next car rental, flight tickets, villa rental, etc.
And since coupons and special discounts don't last, getting the latest deals in your mailbox, through an updated monthly issue of the Newsletter, will make you save precious time.
Ready to subscribe now? Click here and redeem you free Maui Wallpaper.
Missed a past issue?
Visit the Maui Hawaii Newsletter Archives.
A friend of yours may like the Maui Newsletter...
Let him know by sharing this page using the Facebook, Twitter or Share buttons below.
---