---
Share Your Favorite Maui Surf Pictures
Catch the Wave!
I could not go to Hawaii without bringing back home some Maui Surf Pictures.
Maui Hawaii is surfers paradise. It's a once in a lifetime opportunity.
Even if it's no Jaws, things can become quite serious at Hookipa
when surf is high. You got to know what you are doing.
Experienced surfers only.
Like this Photo? Bring Maui Home - Order Prints or Greeting Cards
Plenty of Surf Photos Opportunities
The world-famous Jaws was pretty quiet during my stay. I didn't have the chance to see those giant 80-foot waves in action.
But the good thing is Maui offers a lot of great surf spots. And many of them are very accessible. It's easy for you to catch some good surf photos without having to wait for Jaws to get alive.
One of the best surf spot on Maui is Honolua Bay, on West Maui Coastline. My favorite surf spot is Hookipa Beach Park on Maui North Shore.
The place is well-known by local surfers and curious people who happen to pass by. A large lookout with many parking lots is situated right on the Hana Highway, a few minutes past Paia. You can't miss it.
The waves are consistent and the surf conditions are usually good, especially in the morning before the wind is up.
If you want to get great Maui surf pictures, don't stay in the parking lot. Jump over the wood fence and follow the path down to the ocean. You will end up just a few feet away from the water, directly at sea level. You will find yourself in a much better position to catch some surf action. Be careful though. The path is slippery and a bit steep.
My Favorite Maui Surf Pictures
I had to take a looooooot of shots in order to get some decent ones without motion blur.
My gear is not bad, but my 70-200mm is a bit short for distant action shots, especially when light is fading fast at sunset. Bring long lens if you can (300-400mm).
Here are some of my favorite Maui Surf Photos.
Enjoy!
Go ahead and share YOUR favorite Maui Surf Pictures or Slideshows/Videos. And tell us when and where you caught those moments.
Surfing in La Perouse Bay
It was a great sunny day (no surprise in Hawaii!). Weather was just perfect with a cool wind blowing.
We parked our car at La Perouse Bay and decided to explore some ancient lava trails in South Maui. We were almost alone.
Coming back from a pretty long hike on the lava rocks, we noticed a two surfers in the distance.
Nice waves were breaking close to the coast. We stopped for a while watching the surfers battle with the waves. The show was awesome and I could catch some action on photos. Here's one sample.
A fearless surfer is riding an impressive wave at La Perouse Bay.
Like this Photo? Bring Maui Home - Order Prints or Greeting Cards
Hookipa Surfing at Sunset
We were heading back to our rental on the Hana Highway. We made a quick stop at the Hookipa lookout. It was becoming a habit... :)
The sun was setting. A bunch of surfers were still there, enjoying the last waves of the day. I couldn't ask for more. I took some moody surf shots, helped by a very dramatic back light. Talk about being there at the right moment.
I Love when that happens.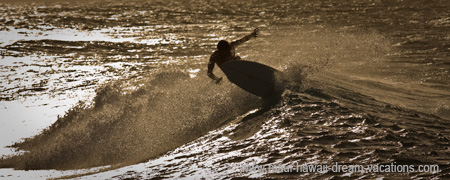 An elegant surfer is riding the last wave of the day.
Like this Photo? Bring Maui Home - Order Prints or Greeting Cards
Surfing Can Make You Fly!
What can I say?
Surf can be hard on your body. I took this photo in Hookipa.
In case you ask... the guy is fine. A minute later he was catching another wave. Need much more to stop a surfer...
This time the wave won the fight.
Hookipa Beach Park, Maui Hawaii.
Like this Photo? Bring Maui Home - Order Prints or Greeting Cards
Never Too Young to Surf
We were relaxing on Spreckelsville Beach, North Maui. The sun was already low in the sky. Another incredible day had passed in paradise.
A mother was swimming in shallow waters carefully watching her young boy trying hard to keep his balance on a huge surfboard.
No wonder these kids become surf champions.
I love this image.
Getting warm and dry after a full day of training on your surfboard...
with mommy by your side.
Like this Photo? Bring Maui Home - Order Prints or Greeting Cards
Looking for Large Format High-Quality Prints?
If you like one (or many) of my pictures of Maui Hawaii, you can order High-Quality Prints right from my website.
Choose from a large variety of Standard Prints, Framed Prints, Canvas and even Custom Greeting Cards. I made it very simple for you to order.
All you have to do is visit My Photo Gallery, choose the photograph(s) you like, select size, frame style, etc.
Thanks to Fine Art America, your transaction will be processed safely and seamlessly in seconds and your prints will be shipped directly to you.

Maybe you are looking for Original High-Quality Photo File
The Maui Surf Pictures I share on this page are displayed in a small format (to keep fast page rendering). If you are interested in getting a high quality version of one or several of them, you can find my best photo work on the following stock agencies:
Follow one of these links and you will be able to download original Maui Surf Pictures files in seconds and for a very low fee (Royalty Free).
Share YOUR Favorite Maui Surf Picture or Video/Slideshow
Capturing a magic moment on photo or video is wonderful. Sharing this magic moment with others is even better.

Share your favorite Maui Surf Picture here or, even better, submit a Slideshow or Video. Simply grab the embed code and paste it. And don't forget to tell us why this moment is a special one for you.
---