---
Maui Car Rentals Benefits
Why Should I Rent a Car to Visit Maui?
There are many reasons why Maui Car Rentals are so popular.
One of those is obvious: Maui's unique natural beauty needs to be discovered on your own, slowly and freely.
This might sound like a cliché, but it is probably one of the most simple, yet fundamental piece of advice I could share.
Already convinced that you need a car? Find how to get a Cheap Car Rental in Maui here or get more specific answers to your Car Rental questions here.
When visiting Maui, you should be able to adapt, spending more time here and there, exploring a little further if you feel so incline.
A car is the perfect tool to do that.
Driving along the sunny coastline of Southeast Maui
is a true magic moment.
Like this Photo? Bring Maui Home - Order Prints or Greeting Cards
An Essential Tool to Feel the 'Hawaiian Vibe'
Just like Hawaii as a whole, Maui has a special vibe. A vibe that defines it's very own personality.
It can be felt everywhere on the island: while hiking on an old Hawaiian trail up to a too-beautiful-to-be-true waterfalls, watching a stunning sunrise on the top of Haleakala or simply walking the welcoming streets of Paia, Makawao or Lahaina.
All you need to do is to relax, open your eyes, your ears and your heart, and let the Aloha spirit fill your soul.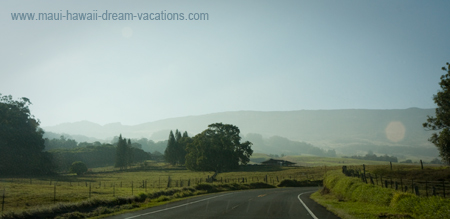 Driving on the peaceful Upcountry Kula Road is an
instant-stress-relief remedy. All natural and totally free!
I am not becoming 'spiritual' here, don't worry... :)
All I am talking about is a true feeling of relaxation: being in the moment, leaving stress and worries behind and enjoying the beauty of the island with family and friends.
Maui truly has the power to make us forget about time...
... Isn't it what a true vacation is all about?
Ready to Rent Your Car?
Find how to get cheap car rentals in Maui here.
Or, get more specific answers to your car rental questions here.
---