---
Maui Convertible
Is It Worth It to Rent a Convertible?
In my opinion, a Maui convertible is totally worth it. I rent one the second time I went to Hawaii and I had such a great time. If you can afford it, go ahead and book a convertible without hesitation.
That being said, renting a convertible may not be the best solution for everyone. There are obvious 'pros' but also some 'cons' you need to consider.
Maui Convertible: the Pros
I won't spend much time trying to convince you that driving a convertible on the scenic roads of a tropical paradise is an awesome feeling. Who wouldn't agree with that?
Just for the pleasure of exploring the world-famous Road to Hana, it's worth it to rent a convertible. The scenery is so breathtaking that you thank yourself every five minutes for having picked a 'roof-less' car. Believe me, you truly appreciate your full 360-panoramic view!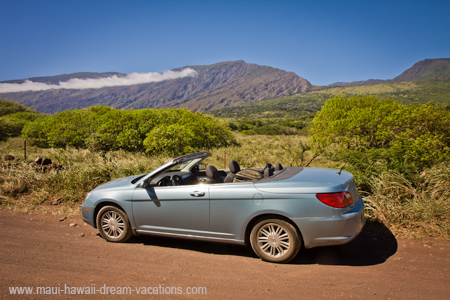 Driving a Convertible on the scenic roads of Maui
is a real pleasure
Like this Photo? Bring Maui Home - Order Prints or Greeting Cards
Driving a convertible somehow makes you connect a little more with your surroundings. After all, you are pretty much 'outside'.
You can feel the sun on your skin and the cool wind from the ocean. You can even hear the birds and 'smell' the forest and the sea.
Driving can't compare to hiking, where all your senses are fully involved. But driving a convertible certainly brings you one step closer to 'feeling' the island.
Already convinced that you need a convertible?
Find the best rates available using the Expedia Online Booking Tool provided below. Or, get additional tips and advice on how to book online here.
Maui Convertible: the Cons
It would not be fair to say that renting a convertible is all benefits.
Before you make your decision, you should consider those 3 points:
Number of passengers and luggage
Gas consumption
Budget
1. Number of Passengers and Luggage
A convertible is perfect for 2 people. Front seats are comfortable and you have enough room for your luggage.
If you're traveling with kids, it sill can be ok. But you need to know that the trunk is a lot smaller than you could think. A big part of it is used for storing the roof.
Your large luggage will simply not fit in.
I remember having to put two of our larger luggage on the back seat because it wouldn't fit in my convertible's trunk (look at the picture above!).
That's not that bad if you're only two and if you stay at the same place for your entire vacations. But if you get kids or extra passengers or if you plan on moving a few times from rentals to rentals, that might become a real problem.
In this case, I would recommend renting a convertible for a couple of days only so you can enjoy the benefits without the disadvantages.
2. Gas Consumption
Another point to consider is the gas consumption. Convertibles are not as bad as large SUV or full-size luxury cars, but they are less efficient than Economy or Standard class cars.
If you plan on doing a lot of mileage, you may want to consider this criteria (more on this here).
3. Budget
Special treats do cost extra money. Unfortunately, that also applies to convertibles.
Be prepared to pay twice (or even three times) the price of an Economy or Standard car. That's the price to pay to drive 'in style' on Maui.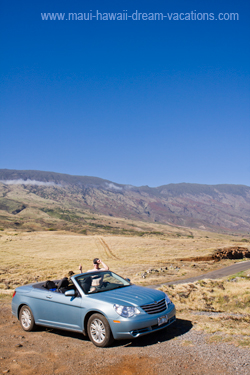 That's me in my Sebring convertible on
Maui's Southeast coastline
I know, it's not cheap. But in my opinion it's totally worth it to rent a convertible at least once.
Use the Expedia Online Booking Tool (provided above) or go directly to Expedia.com to check the actual rates. Try the Flight + Car package option and you may be able to save some money on your rental.
Ready to 'shine' on the roads of this island of paradise?
Let's get your convertible now!
---