---
Essential Maui HI Facts - Part 2
Practical Information About Your Dream Destination
Getting to know Maui HI a little bit more before you fly your way to the island is always a good idea. You give yourself additional chances to truly enjoy your trip, being more aware of what Maui is made of in terms of economy, demographics, geography and so on.
This page is the second part of a list of Essential Maui HI Facts. Since there is no specific order in which to explore the facts, you can start your reading here or jump to Part 1 of the Essential Maui Hawaii Facts.

This is a fact... South Maui beaches are stunning!
Wailea-Makena - Maui Hawaii
Note that the following Maui Hawaii facts are presented in bullet point form to keep them short and easy to read.
A lot more details can be found in the dozens of pages that compose the Maui Hawaii Dream Vacations website. So make sure to explore at least the subjects that you are the most interested in by clicking on the corresponding website's section (left column).
You may also appreciate to discover some Maui Cool Facts here.
Can't find a piece of information? Got a question or some cool Maui Hawaii facts to share? Post it here. Or join the Maui Hawaii Dream Vacations Facebook Community and share your passion with over 1500 fellow Maui lovers.
Maui Hawaii Facts
Maui Time Difference
All year-round, Maui is under Hawaii Standard Time.
No daylight savings time applies on Maui.
During standard time, Maui is 2 hours behind Pacific Standard Time and 5 hours behind Eastern Standard Time.
On daylight saving time, Maui is 3 hours behind the West Coast and 6 hours behind the East Coast.
More on Maui Time Difference here.
Maui Air Travel
3 airports provide scheduled flights to Maui.
The main airport is Kahului Airport located in Central Maui.
The two smaller commuter airports are Kapalua Airport (JHM), in eastern Maui and Hana Airport (HNM), in Western Maui.
Interisland flights between Maui and the other Hawaiian islands, mostly provided by Hawaiian Airlines, are fast and easy.
More on Maui Airports here.
Maui Ground Transportation
The Maui Public Bus Transit System provides basic transportation around the island for $1 per boarding.
Taxis are available at airports, but cost can be high for long rides.
Shuttles are also available and often provided for free by hotels and rentals (check with your rental).
Renting a car is the best way to explore the island.
More on Maui Car Rentals and other means of transportation here.
Maui Economy
Maui's currency is the US Dollar.
Maui's main industries are agriculture and tourism.
Maui's major exports are coffee, Macadamia nuts, papaya, tropical flowers, sugar, pineapple.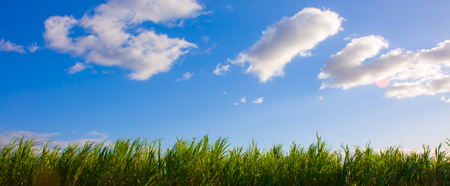 Sugar Cane Field, Central Maui, Hawaii
Like this Photo? Bring Maui Home - Order Prints or Greeting Cards
Tourism
Around 2,5 million tourists visit Maui each year generating US$3.5 billion.
Main Maui HI tourist attractions are Haleakala National Park, Hana Highway and Lahaina.
People from all over the world also come to Maui to enjoy surfing, kite surfing, windsurfing, snorkeling and whale watching.
Maui attracts visitors from around the world but U.S. mainland and Canada visitors are the most frequent.
Maui Telephone, Internet and Electricity
808 is the area code for all of Hawaii including Maui.
Cell phone coverage is available on most of the island.
Internet access is widely available in Maui's hotels and can be found in some public areas.
Electricity is 120 volts (just as everywhere in the United States)
Emergency
Ambulance/Police/Fire Department: 911
Maui Memorial Medical Center: (808) 244-9056
Hana Community Health Center: (808) 248-8294
Kahului Airport Visitor Information: (808) 872-3893
The Maui HI Facts you just read have been inspired by two main sources: Maui County and Wikipedia.
Need More Maui Hawaii Facts?
Continue your reading at Essential Maui HI Facts - Part 1.
Or find out some additional Cool Maui HI facts here.
And if you are looking for a more in-depth exploration of the rich Maui's history, geography, geology and more, I highly recommend this Maui Guidebook.

Maui Revealed
, by Andrew Doughty is THE perfect guidebook. It's that simple.
Not only will you find tons of details on Maui's rich history and unique geography (especially in the 20+ pages of the introduction), but you will also get the very best Maui travel book you can get, including exclusive Maui maps and pictures.
---