---
Essential Maui Hawaii Facts - Part 1
Know The Island Before You Go
There are so many interesting Maui Hawaii Facts to write about that I could be sitting in front of my computer for hours. But I am not going to stick to my chair while the entire world awaits to be explored.
You wouldn't do this either... Would you?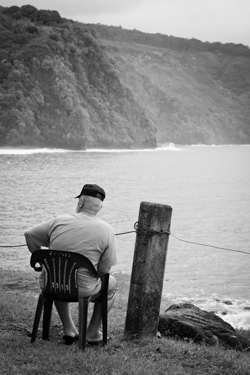 If this was my office, I would be
staring at the ocean all day
Ke'anae Peninsula - Road to Hana
That being said, I won't let you down. I know that you want to learn as much as you can about your next travel destination. I am just like you. When I prepare a dream vacation, I can't stop myself from browsing the Internet looking for interesting facts, stories, pictures and more.
So Much to Learn and So Little Time
But since there's so much to learn and not so many hours in a day, I decided to condense all this information in a list of facts producing an informative (yet non exhaustive) Maui Overview.
The following Maui Hawaii facts are written in bullet point form to keep them short and easy to read. This is only the first part. The Maui overview continues on the Essential Maui Hi Facts - Part 2 page.
Please note that a lot more details can be found in the dozens of pages that compose the Maui Hawaii Dream Vacations website. So make sure to explore at least the subjects that you are the most interested in by clicking on the corresponding website's section (left column).
In addition to these Essential Maui Hawaii Facts, you may also appreciate to read some Maui Cool Facts.
Can't find a piece of information? Got a question or some cool Maui Hawaii facts to share? Post it here. Or join the Maui Hawaii Dream Vacations Facebook Community and share your passion with over 1500 fellow Maui lovers.
Maui Hawaii Facts - Part 1
Maui Geography and Geology
Maui's exact location is: 20°48'N 156°20'W.
Maui is approximately 48 miles (76.8 km) long and 26 miles (41.6 km) wide, for a total area of 727 square miles (1883.5 km2).
Maui is the second largest Hawaiian Island
Maui County also includes four smaller islands: Molokai, Lanai, Kahoolawe and Molokini.
Maui County has a total area of 2 398 square miles (6 212 km2), of which 48% is land and 52% is water.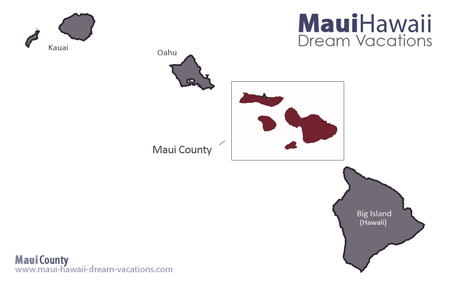 Map of the Maui County in the Hawaiian Islands archipelago
Maui is divided into 5 regions: Central Maui, East Maui, South Maui, West Maui and Upcountry Maui.
Wailuku is the capital city, seat of Maui County.
Maui's highest point is Mt. Haleakala at 10 023 ft or 3 055 m.
Maui's Haleakala giant crater is 3 000 feet deep and 21 miles around.
Maui Demographics
Maui has a population of approximately 155 000 habitants (2010).
Maui's population has increased by 20.9% from 2000 to 2010.
23% of Maui's population is less than 18 years old.
Maui is the third-most populous of the Hawaiian Islands (Oahu is first and Big Island second)
Maui's density is 162 habitants/square mile (62/km2).
Maui's racial makeup is 34.4% White persons, 28.8% Asian persons, 10.4% Native Hawaiian and Other Pacific Islander, 10.1% Hispanic or Latino origin, 0.6% Black persons, 0.4% American Indian and Alaska Native persons
23.5% of the population reports two or more races.
Maui Spoken Languages
The vast majority of Maui's habitants speak English
Native people also speak Hawaiian
Maui Climate
Maui's winter average temperature is 71F/21.6C
Maui's summer average temperature is 78F/25.5C
Maui's ocean average temperature is 78F/25.5C
Maui's climatic conditions are very diverse. High mountains and deep valleys create microclimates.
Western side (leeward) of the island generally means drier climate while Eastern side (windward) means wetter climate.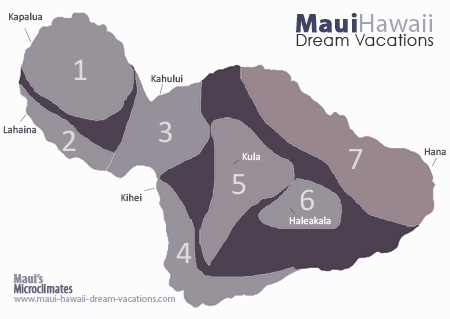 Map of Maui's Microclimates
Click for detailed Maui Weather Conditions
Maui's Official Insignia
Maui's official flower is the lokelani
Maui's official color is akala (pink)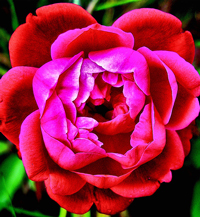 Lokelani Flower - Maui's Insignia
Photo by Alan L.
The Maui Hawaii Facts you just read have been inspired by two main sources: Maui County and Wikipedia.
Want More Maui Hawaii Facts?
Continue your reading by visiting Essential Maui HI Facts - Part 2.
Or find out some additional Cool Maui Facts here.
And if you are looking for a more in-depth exploration of the rich Maui's history, geography, geology and more, I highly recommend this Maui Guidebook.

Maui Revealed
, by Andrew Doughty is THE perfect guidebook. It's that simple.
Not only will you find tons of details on Maui's rich history and unique geography (especially in the 20+ pages of the introduction), but you will also get the very best Maui travel book you can get, including exclusive Maui maps and pictures. Read my full review of the Maui Revealed guidebook here.
---