---
Cool Maui Facts - Part 1
You Think You Know the Island? Let's See!
I gathered a bunch of Maui Facts that I find interesting and fun. Some are pretty obvious but others are surprising.
An example? Before hiking the Haleakala crater, I thought the volcano was dead... not dormant! That's the kind of Maui fact you want to know before leaving home... isn't it?
But we all know I would have hiked the volcano anyway... This place is too amazing!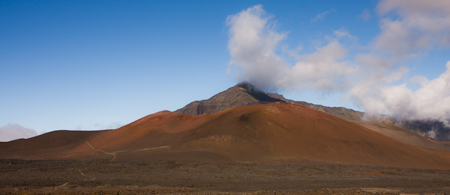 This view from the bottom of the Haleakala Crater is stunning. This is a fact. Haleakala National Park, Maui Hawaii
Let's say those Maui Facts are here for you to enjoy, period. No need to look for any other reason.
To make your reading even more enjoyable, the facts are presented through a list of numbers. Have fun!
Before you start though, keep in mind that a lot more details are shared throughout the Maui Hawaii Dream Vacations website. Make sure to continue your exploration by clicking on the website's sections that you are the most interested in (left column).
You may also appreciate these Essential Maui Hawaii Facts.
Can't find a piece of information? Got a question or a cool fact to share? Post it here. Or join the ever growing Maui Hawaii Dream Vacations Facebook Community and share your passion with hundreds of fellow Maui lovers.
Ready for Some Maui Facts?
What's This Number About?...
2
This is Maui's position in the race for the largest of the Hawaiian Islands. The island of Hawaii (also called Big Island) is the clear winner of the largest Hawaiian Island's title. And Big Island is not going to loose it's championship soon, as active volcanoes are constantly creating new estate, making Hawaii a bigger island each year. I guess Maui can't win them all...
16
Is Maui's position in the list of the United States largest islands. Hawaii (Big Island) is number 1. The fourteen following positions are held by Alaskan's islands, except for position 10, which is occupied by famous Long Island.
137
Is the number of islands forming the Hawaiian archipelago . Maui is one of the 8 main islands of the archipelago, the 7 remaining being: Hawaii, Kahoolawe, Lanai, Molokai, Oahu, Kauai and Niihau. Dozens of atolls and islets make up for the rest.
30
This is the number of miles of white, red, and black sand beaches that Maui has to offer. Isn't that incredible for an island of this size!
80
Is the number of incredible beaches found on Maui's beautiful shoreline. This is more accessible beaches than any of the other Hawaiian Islands.
2
This is the number of major volcanoes responsible for the creation of the island of Maui. The two shield volcanoes overlapped one another forming an isthmus between them, known today as Central Maui or Maui Valley, thus the island's nickname 'The Valley Isle".
10 000
10 023ft (to be precise) is the elevation of Mt. Haleakala's summit. An absolute must-see on Maui Hawaii.
5,788
Pu'u Kukui is the highest of the peaks at 5,788 feet (1,764 m). The second volcano now forms the West Maui Mountains (in Hawaiian Mauna Kahalawai).
11
Is the lowest temperature (in Fahrenheit) recorded on Maui. It happened on Mt. Haleakala, in 1961.
1
The very unique silversword,
about to die after blooming.
Haleakala, Maui, Hawaii.
This is the number of times the stunning silversword (also called ahinahina) is allowed to bloom before dying. Isn't it a dramatic fact? The silversword is an endemic Haleakala globe-shaped rosette plant with rigid leaves covered by silver hairs. The contrast between the shiny plant and the red lave rock of the crater creates a remarkable landscape. Hiking the Haleakala volcano between July and September allows you to see silversword's rare flowers.
1790
Is the date of Maui's Haleakala last eruption (according to anecdotal evidence), which happened in the Haleakala's Southwest rift zone. Although considered by volcanologists as a dormant volcano, Haleakala could erupt again. Fortunately, Maui's volcano is not an explosive type.
1400
Is the approximate date of Maui's Haleakala last eruption according to scientific carbon dating. You choose your date, but I must admit I like to believe in the carbon dating evidence... Makes the volcano look friendlier to me.
8
Is the number of Maui's State Parks: Iao Valley State Monument, Halekii-Pihana Heiau State Monument, Kaumahina State Wayside, Makena State Park, Polipoli Spring State Recreation Area, Pua'a Ka'a State Wayside, Wai'anapanapa State Park and Wailua Valley State Wayside. They are all amazing natural treasures. Haleakala is not on the list because it is a US National Park.
The Maui Facts you just read have been inspired by two main sources: Maui County and Wikipedia.
Want More Maui Facts?
Continue your reading on Cool Maui Hawaii Facts - Part 2.
You can also discover some Essential Maui Facts here.
And if you are looking for a more in-depth exploration of the rich Maui's history, geography, geology and more, I highly recommend this Maui Guidebook.

Maui Revealed
, by Andrew Doughty is THE perfect guidebook. It's that simple.
Not only will you find tons of details on Maui's rich history and unique geography (especially in the 20+ pages of the introduction), but you will also get the very best Maui travel book you can get, including exclusive Maui maps and pictures. Read my full review of the Maui Revealed guidebook here.
---