---
Fodor's Hawaii Guidebook Review
A Good All-Around Hawaii Travel Guide
The Fodor's Hawaii Guidebook is part of my Top 3 Maui Guidebooks. This choice may seem a bit strange since Fodor's Hawaii is not exclusively focused on Maui.
In fact, this is precisely for that reason that I decided to put it on my Top 3 list. The Fodor's Hawaii guidebook appears to be a good complement to my favorite guide: Maui Revealed: The Ultimate Guidebook.
The fact is most travelers who come to visit Maui also spend some time on at least one other Hawaiian island. The Fodor's Hawaii guidebook makes a good job covering all the islands.
That being said, keep in mind that you will not find extremely detailed information about each island in this kind of all-around guidebook. It's just not possible for a single travel guide (even a big 700-page guidebook like this one) to dig deep into every subject while covering 4 major islands at a time. The feedback are mostly relevant and certainly informative, but they stay a bit superficial.
Tip - If Maui is the only Hawaiian island you plan on visiting, don't spend your money on a general Hawaii travel guide. Stick to a sure bet like Maui Revealed.
What I Like About Fodor's Hawaii
This guidebook is packed with a lot of stuff in order to please as much Hawaii travelers as possible. To me, 3 specific features are particularly interesting.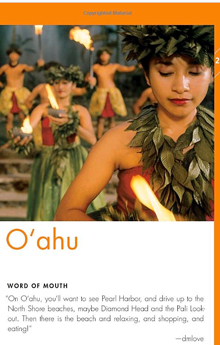 The Fodor's Hawaii guidebook
offers great colorful photos
Image source: www.Amazon.com
The first key point is its overall esthetic.
The Fodor's is a very colorful yet clear and simple guide. The information is well organized and supported by pleasing tables and graphics. All of this makes your reading very enjoyable.
The second key point is the presence of many Best of, Top 3, Top 5 or Top 10 sections.
Fodor's Hawaii provides ratings for several restaurants, shops, accommodations and attractions. But what the majority of travelers want is to get some sort of opinion to help them pick the best of the best. The Fodor's answers this wish in a pretty good way. Don't expect detailed suggestions though. It's more about pointing out the best things to see, do and eat rather than telling you why and how.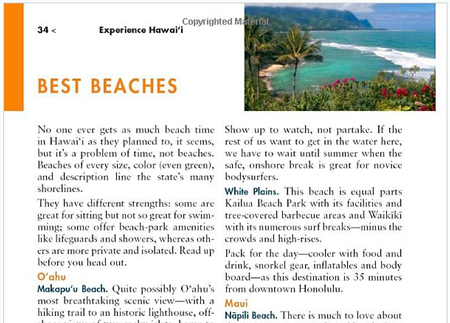 The Fodor's Hawaii Best of is a very handy feature
helping you to quickly identify must-sees and most-dos
Image source: www.Amazon.com
The third and last key point for me is the Great Island Itineraries section. Personally, I am not a big fan of those pre-planed road-trips. I prefer total freedom. But I know many Maui Hawaii travelers don't have the time to prepare their dream vacation as well as they would like to.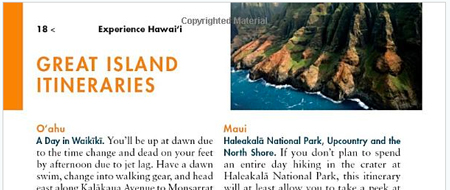 The Fodor's Hawaii Itineraries are certainly useful
to travelers looking for pre-planed day-trips.
Image source: www.Amazon.com
These Fodor's itineraries prove to be very handy to those looking for a easy-to-follow mini-guide. Note to the publisher: adding a wider choice of itineraries would be a nice improvement.
Tip - To see more of the Fodor's Hawaii guidebook, make sure to take advantage of the Look Inside feature provided by Amazon.com. Click on the book cover at the top of this page than click again once on Amazon. You will get a sneak peak at the guidebook's actual content. This is a very handy tool to help you make a final decision.
What I Don't Like About Fodor's Hawaii
Being aware that this is a general all-islands guidebook, I am rather happy whit the Fodor's, thus my inclusion in the Top 3. But, obviously, the travel guide is far from being perfect. To keep it short, let's address 2 weak points.
My fist complaint would be its overall lack of personality. To me, it feels more like a well-written informative book than a highly engaging travel guide. I wish I could feel a little more of the Aloha spirit I am looking for. But I guess that is the nature of those mainstream travel guides.
My second complaint is a matter of size… This guidebook is pretty thick and heavy. That's not a real problem when you are driving your car. But when packing for a hike or a beach picnic, you may find it takes a little more room than expected in your backpack.
The Fodor's 2012 Edition
You may want to grab the 2012 edition of Fodor's Hawaii. I haven't have the chance to try it on the field yet, but its overall content should not differ that much from the previous edition. I would appreciate your feedback on this. Add a comment below if you had the chance to try Fodor's Hawaii 2012.
Please, also note that the Frommer's Hawaii guidebook could be a good alternative to Fodor's Hawaii. Both are good all-around Hawaii guidebooks.
Want More Maui Hawaii Guidebooks Suggestions?
If you prefer to get even more suggestions, browse through my Maui Hawaii Guidebooks Complete List.
Not sure what Maui travel guide to choose? Need advice? Why not start with my personal Top 3 Maui Travel Guide page.
---