---
Renting a Convertible in Maui
How to Choose the Right Car at the Best Price
Before you ask, let me say that renting a convertible in Maui is a great idea.
It's not for everyone, since there are some 'cons' to consider, but overall, it's a very fun way to explore the island.
If you are ready to book your Maui Convertible, simply follow this link to get the best rates available. Still not sure? Read on or visit this page to know more about the 'pros' and 'cons' of renting a convertible in Maui.
Mustang or Sebring?
Basically, only two models of convertibles are offered by the majority of Maui's car rental companies: the Chrysler Sebring and the famous Ford Mustang.
Some will prefer the Sebring, others the Mustang. The choice is yours. In my opinion, the differences between both cars are not that big. Both models allow you to drive a convertible on Maui's beautiful roads. That's what really matters!.
But since you have the choice, here's a few observations to help you pick the car you prefer.
Power and Style
It's hard to beat the Ford Mustang when talking about style and power. Big engine, traditional look, fun to drive. You got it all!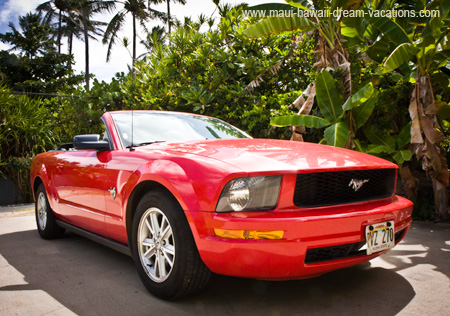 Nothing can beat a Mustang when comes the time to 'drive in style'
on the beautiful Maui roads!
Hitting the road with a shiny red Mustang convertible is a special feeling.
The Chrysler Sebring certainly can't deliver this look and this feeling of total freedom.
Fuel Efficiency and Driving Styles
But the Sebring offers some benefits like a more fuel-efficient engine (20-24 mpg instead of 17-23 mpg). If you plan on doing a lot of mileage, gas consumption can become an element to consider.
I also noticed a difference in driving styles. I guess it's a matter of personal taste, but once the feeling of novelty was gone, I became a little tired of the Mustang. The Sebring had my vote: more stable, more 'direct' steering control, less noise.
It's very important to note that both cars provide very limited trunk space. With the top up, it's not that bad. But when it's down, don't try to fit in a large suitcase. It simply won't work. It's very tight in the Mustang, but the trunk almost disappears in the Sebring...
My girlfriend is enjoying the cool breeze of the ocean in our
Sebring convertible off the Road to Hana.
You can see that we are carrying our large luggage on the back seat!
The Verdict
Short trip rental?
No doubt in my mind: rent a shiny red Mustang and make sure to take pictures so you can do a little 'show off' back at home!
Long trip rental?
Both cars will do. It's your call. Take into account your mileage, your driving style and your luggage or just pick the car you prefer! It is YOUR vacation after all.
Renting a Convertible in Maui: a Few More Tips
Tip 1 - Book early!
I can't stress this enough. If you are looking for a specific car, for instance a convertible, you need to book it as soon as possible.
Once you get your flight tickets, don't wait and book your Maui convertible. There are plenty of rental cars in Maui, but 'special in-demand' classes like convertible and SUV can become rare during high season (especially from December to April).
Tip 2 - Be Patient
When you book your convertible in Maui, make sure the car rental company that you choose offers the car that you want (Mustang or Sebring). Some companies only offer one of them.
Even if you choose a Mustang for example, you may find out at the counter that the company is now offering you a Sebring (or vice versa). Insist to get the car you want. If you are patient enough, you should be able to choose your car on-the-fly since convertibles come and go very quickly.
Tip 3 - Get a Retractable Hardtop
Choose a model equipped with a retractable hardtop. This takes extra room in the trunk, but it's very handy to operate and it's less noisy and more secure when you need to leave some valuable stuff locked in your car (something you should avoid to do as much as possible...).
You will quickly find out that you are not alone driving a convertible in Maui. Don't get upset if you meet a dozen of Mustang on the Road to Hana. We all wish we would be the only one having this idea... The truth is, driving a convertible on Maui is such a great feeling that more and more people are willing to experience it.
This doesn't hurt YOUR experience. So, don't let it stop you from having a great time.
Ready to book your Maui Convertible?... Let's go!
---