---
Hawaii Maui Hikes and Treks
There is No Better Way to Explore the Island than to Walk its Trails
Maui hikes are numerous and simply amazing. In fact all the Hawaiian islands provide exceptional hiking opportunities (especially Kauai). Welcome to hikers paradise.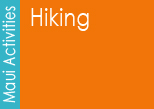 if you like to explore new places using your feet like I do, you will fall in love with Maui. In my opinion, there is no better way to discover Maui's natural treasures.
Everyone can do it at his own pace, alone, in couple, with family and friends or in a group. Hiking makes you stay in shape and feel healthy. Il allows you to slow down, take all the pictures that you want, smell flowers, taste fruits, listen to birds and really feel like you are part of nature. Hiking creates priceless moments.
There are countless options to satisfy everyone: from a short stroll to a nearby waterfall to an epic trek at the very bottom of the Haleakala crater. Maui hikes definitively get my vote.
The truth is you can hike Maui by yourself with a good guidebook like Maui Revealed or Maui Trailblazer and a rental car. But you may prefer to join a group to avoid worrying about driving and finding trailheads.
The following list of Maui hikes provides several offers. Pick your favorite.
You can book your favorite Maui Hawaii guided hike in confidence right from this page when you are ready. Viator is a well-established travel agency that you can trust, selecting only the most experienced and reliable guides and offering the best rates available. The booking process is very simple.
---
Tip - Wear sunscreen/sunblock, sunglasses, a hat or a cap, a white shirt and good walking shoes. Bring a snack (dried fruit or some fresh nuts are ideal) and a lot of water. It's the key to avoid dehydration and to enjoy the hike at its fullest. Don't forget your camera (with full batteries and empty cards)!
Looking for More Activities?
You can search for additional Things to Do in Maui by themes, categories or popular destinations on this page.
To see a complete listing of Maui Activities, you should visit the All Maui Hawaii Things to Do page.
Maui is not enough? Find and book the best attractions in Hawaii: Oahu, Big Island, Kauai and Maui. All Hawaiian islands are covered.
If you are looking for special deals, make sure to visit the Maui Discounts and the Maui Deals page or learn how to find promotions on Maui Hawaii activities using the major online travel agencies.
---