---
Maui Lahaina Weather
Leeward Lowlands West Maui Mountains Climate
Lahaina Weather is great. If you are looking for sunny days and if spending a lot of time on the beach is number one on your list, you should seriously consider the Lahaina region.
This explains why the nearby Ka'anapali resorts get so much attention... and so many tourists (you've been warned!). Only Kihei/South Maui area may provide even more sun... and crowd!.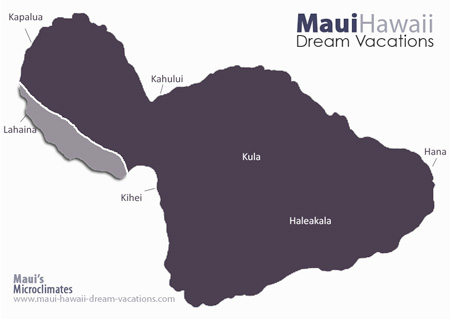 Map of Maui's Microclimates - Lahaina Region
The Lahaina microclimate region is warmer and drier than the rest of the island because of its location on the leeward side of West Maui Mountains.
During summer, dry heat may even cause wild bush fires.
Trade winds coming mainly from North-East hit the Mountains, protecting the Lahaina region from rain. Going further North, the landscape will change progressively, becoming a bit more lush. Rain tends to be a little more frequent as well.
Keep in mind that while daytime temperatures are slightly higher in leeward lowlands temperatures, they are also a tad lower at nighttime. Nothing to worry about though!... Just good sleep in cool comfortable conditions.
Lahaina Latest Weather Conditions and Forecast
Here are the Lahaina latest weather conditions and forecast. If the conditions don't seem too good, don't worry. The weather vary a lot locally and the forecasts are just not precise enough to give you the real picture.
If your beach is cloudy, move to the next one a few kilometers away. Chances are you'll find the sun! Moving South is your best bet.
Continue to Kahului Weather Conditions and Forecast?
---