---
Maui Kahului Weather
Central Valley Climate
Kahului Weather can change quite quickly. The area is made of a large central valley between the two Maui's main volcanoes: younger Haleakala on the East side and older Pu'u Kukui on the West side.
The valley is mostly sunny and dry while the mountains are cloudy on both sides. Winds are frequent in Kahului and the surroundings due to the topography of the valley.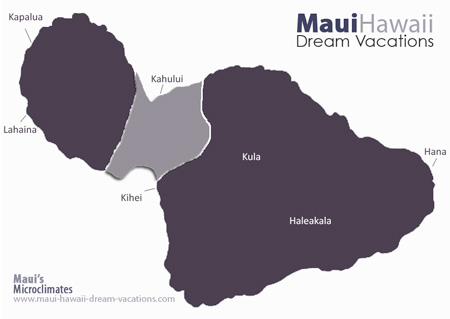 Map of Maui's Microclimates - Kahului Region
The mornings usually offer sunny days but short-duration intense afternoon showers are not rare. Clouds forming in the Iao Valley on the West or on the adjacent Haleakala upcountry slopes on the East, happen to extend down to the valley as the day progress.
The North part of the valley is more affected while the South part, around North Kihei usually remains dry and sunny. Sugar cane fields are everywhere.
My advice: visit the North part of the valley, including Kahului and Wailuku in the morning to avoid wind and clouds.
Kahului Latest Weather Conditions and Forecast
Here are the Kahului latest weather conditions and forecast. If the conditions don't seem too good, don't worry. The weather vary a lot locally and the forecasts are just not precise enough to give you the real picture.
If it's raining, do a little shopping or relax in a small Coffee Shop. Chances are the weather will change in a matter of minutes! If you need instant sun, move South towards Kihei.
Continue to Kihei Weather Conditions and Forecast?
---