---
Maui Kapalua Weather
Windward West Maui Mountains Climate
Kapalua Weather is wet, very wet! But it should not stop you from visiting the area. It is one of the most stunning places in Maui.
The Kapalua microclimate region, including famous surf spot Honolua Bay and even more famous Iao Valley, receive a lot of rain. Trade winds are responsible for bringing moist air from the ocean on a daily basis.
The West Maui Mountains tall slopes force the saturated air to climb up and cool with altitude. The result: rain.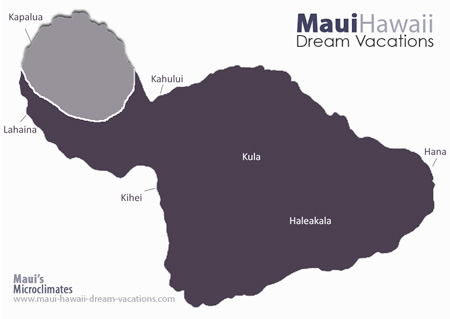 Map of Maui's Microclimates - Kapalua Region
Obviously, this area is not your sunny destination. But it's a beautiful place. Lush and green with breathtaking landscapes.
Get there early and you may avoid clouds and crowds. You don't want to miss the Iao Valley. A little rain in this tropical paradise should not refrain you!
Kapalua Latest Weather Conditions and Forecast
Here are the Kapalua latest weather conditions and forecast. If the conditions don't seem too good, don't worry. The weather vary a lot locally and the forecasts are just not precise enough to give you the real picture.
Continue to Lahaina Weather Conditions and Forecast?
---