---
Honolulu Attractions
Should I Stay on Oahu For a Few Days Before Heading to Maui?
Adding a couple of days to your planning to visit some of the main Honolulu attractions is totally worth it. No doubt in my mind.
I neglected to do so during my first visit to Hawaii. I was trying to avoid big city crowds and I wanted to reach Maui as fast as possible.
It was a mistake.
The Honolulu-Waikiki area is simply beautiful.
I wish I knew how wonderful the surroundings are in the first place. I would have visited these 'gems' way before.
Beautiful Honolulu.
Like this Photo? Bring Maui Home - Order Prints or Greeting Cards
My Favorite Places to Visit around Honolulu
If you decide to stay on Oahu for a quick visit, here are my favorite Honolulu Attractions. No surprise here. They happen to be very popular ones.
...some attractions have this universal appeal no one can resist!
If you can't stay on Oahu on your way to Maui, try booking a flight that allows you to stay a couple of days in Honolulu on your way back. You won't regret it!
Diamond Head State Monument
Don't miss this one.
There might not be any 'real' diamonds (only calcite crystals), but the hike to the top of this extinct volcano is an absolute must.
Starting from inside the crater, it will take you 45 minutes to get to the 760-foot summit. The hike is pretty easy but a bit steep at times. Grab some water, sunscreen and good footgear and you will be just fine.
Once at the top, you won't believe your eyes. This is the time for 360-degree pictures of the island: Honolulu, Waikiki, mountains, endless blue ocean...
Diamond Head Crater
Hanauma Bay Marine Preserve
Hanauma Bay is famous for three main reasons:
Its beautiful horseshoe-shaped sandy beach.
Its clear waters full of tropical fishes.
Its proximity to the Honolulu-Waikiki area.
The first two reasons make Hanauma Bay an attraction you don't want to miss. But the third one makes it a very crowded spot...
If you want to fully enjoy this incredible bay, get there early, very early! You will be granted by a quiet empty beach and turquoise welcoming waters perfect for snorkeling.
Waikiki Beach
Waikiki Beach doesn't need presentation. Its fame is universal. Even if you prefer quiet beaches (like I do), you must see Waikiki Beach once in your life.
Walking on this endless sandy beach, with Honolulu towering skyscrapers in the distance and the splendid Diamond Head as a natural background is quite an experience.
Come at sunset. When the lights of the day go down, Waikiki becomes a surprisingly calm and relaxing place. You still feel the excitement but it's not overwhelming anymore.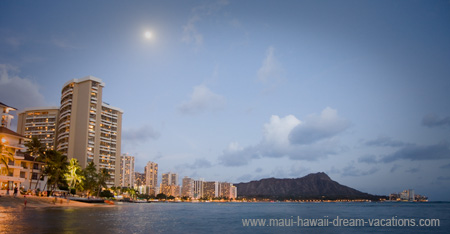 Wonderful Waikiki Beach and Diamond Head at Sunset.
Buy Prints or Greeting Cards
When the lights start to fade, restaurants, bars, shops and hotels along the beach are suddenly painted with warm colors. Couples start wandering on the beach, kissing under palm trees. Magic.
Did I mention that Waikiki Beach, with its long regular waves breaking slowly on the shore, is the perfect spot to learn how to surf?
Nuuanu Pali Lookout
This attraction is pretty straightforward. It is a simple and quick sightseeing stop. But what a stop it is!

A part of Oahu windward coastline viewed from the Nuuanu Pali Lookout
The view is totally breathtaking. The entire windward side of the island is displayed. You could gaze a the panorama for hours... until a series of tour bus arrive and spoil it all!
My advice: I strongly suggest you drive to Nuuanu Pali Lookout.
Simply take the Pali Highway and you will get there in minutes. Hit the road early and arrive before the crowd to fully enjoy the beauty of the Nuuanu Pali Lookout in peace. Then, take advantage of your rented car to continue your visit of the island during the rest of the day.
You won't believe how windy the place is. Bring a jacket. You really need one. It's probably the coldest spot on Oahu.
Pearl Harbor
Let's be honest here. I confess. I haven't visited Pear Harbor yet...
I hear you say: why is it on your favorite Honolulu attractions list then?
Simply because it is linked so closely to Hawaii and American history that I just can't talk about Oahu and Honolulu Attractions without mentioning it. Almost every tourist coming to Oahu go see the U.S.S Arizona Memorial. It had become a form of pilgrimage I guess.
And I know I will have to do it soon too. The thing is I spent most of my time in Hawaii hiking, snorkeling or taking photos. Never had enough time to stop visit Pearl Harbor (shame on me!).
You want to see it?
Either take a bus tour (there are many) or rent a car and drive there (take Nimitz Highway past the airport to Highway 99 then continue past the naval community).
---