---
Honolulu Hawaii Airport
Services and Facilities
Inside Is Outside!
The Hawaii Airport, better known as Honolulu International Airport (HNL), is not a huge airport. Even if several thousand visitors use it every day, you won't feel overwhelmed.
It's rather easy to find what you are looking for and to feel at ease. Beautiful Hawaiian Island trees and flowers are everywhere.
Even when you get inside the airport building itself, you still feel like you are outside. Love it!
ATM, Foreign Exchange, etc.
Many ATMs, foreign exchange offices, restaurants and bars are located throughout the terminals.
A small post office can be found in the Main Terminal as well as a duty-free shop and other common shops.
Internet access is also available in the airport.
Honolulu Airport Public Parking
Public parking is available at Honolulu Airport. If you are lucky enough to have a friend in Oahu, and if this friend is kind enough to come pick you up at the airport, you will be pleased to know that a special waiting area is available.
Your friend will be able to wait for you for up to one hour without charge. This is Aloha spirit in action!
It's also good to know that a valet parking service is available on the 4th floor of the Interisland Terminal. See terminals maps here.
Baggage Claim

Baggage Claim is located on the ground level of all terminals. It is very easy to find.
Follow this sign and locate the carousel used by your Airline.
Your Baggage Claim Carousel should look just like this one
Intra-Airport Transportation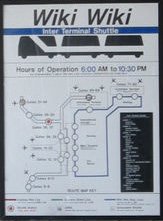 Look for a Wiki Wiki sign
like this one
Honolulu International Airport provides free transportation for passengers to travel between Gates and Terminals.
Small buses known as "Wiki Wiki" (Hawaiian word meaning fast) operate daily from 6 a.m. to 10 p.m. Waiting time is very short.
Wiki Wiki stop signs are easy to locate on the ground level.
More details on the Wiki Wiki here.
---