---
Big Island and Oahu Day Trips
Take a Quick Journey to Another Wonderful Hawaiian Island
Vacations in paradise are always too short. Big Island and Oahu Day Trips allow you to get a sneak peek at what other Hawaiian Islands have to offer.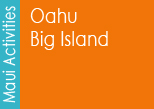 These are pretty quick journeys, leaving you hungry for more. But they most definitively have a positive impact: they make you understand why you have to come back to Hawaii again and again.
Maui to Oahu Day Trips take you to the major Honolulu-Waikiki area attractions: discover the famous downtown Honolulu, the stunning beaches of Waikiki and the historic monuments of Pearl Harbor, the Arizona Memorial, the USS Missouri and the Punchbowl National Cemetery.
Maui to Big Island Day Trips are an invitation to explore the raw power of nature: explore Big Island's Volcanoes National Park, its lava flows and craters, the Thurston Lava Tube, the Kilauea Iki Crater and the Jagger Museum.
Choose your favorite tour from the following list of Big Island and Oahu Day Trips. Click on the links for more details.
You can book right from this page when you are ready. Viator is a well-established travel agency that you can trust, selecting only reputable operators and offering the best rates available. The booking process is very simple.
---
Tips - Don't go to bed too late the night before your trip. These are pretty tiring days. You want to be in shape to fully enjoy the experience. And don't forget to bring your camera with fresh batteries and free memory cards.
Looking for Additional Maui Hawaii Activity Ideas?
You can search for additional Things to Do in Maui by themes, categories or popular destinations on this page.
To see a complete listing of Maui Activities, you should visit the All Maui Hawaii Things to Do page.
Maui is not enough? Find and book the best attractions in Hawaii: Oahu, Big Island, Kauai and Maui. All Hawaiian islands are covered.
If you are looking for special deals, make sure to visit the Maui Discounts and the Maui Deals page or learn how to find promotions on Maui Hawaii activities using the major online travel agencies.
---