---
Hawaii Maui Kayak Adventures
Soak up the Beauty of the Hawaiian Coastline on a Maui Kayaking Trip
Embarking on a Maui Kayak adventure is one of the most fun and rewarding activity you can do during your vacation. Not only will you discover the beauty of the island from another point of view, but you will do it in an healthy and eco-friendly way.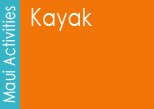 A Maui kayak excursion is truly something you should put on your must-do list. There is no better way to explore Maui's stunning coastline. Everybody can do it. No need to be an expert. It's a safe activity that can be performed at your own pace.
You can even combine it with a snorkeling session or an unforgettable surf lesson to make it a perfect day in paradise.
A few years ago, my girlfriend and I experienced a very special kayak encounter. We were on our way back to the beach when a group of wild dolphins suddenly surrounded us. They were 15 to 20 dolphins, just there, all around us, jumping and spinning, enjoying the end of the day. No need to say we will never forget this magical moment.
Don't wait and pick your favorite Maui kayak adventure from the following list. Click on the links for more details.
You can book right from this page when you are ready. Viator is a well-established travel agency that you can trust, selecting only reputable partners and offering the best rates available. The booking process is very simple.
---
Tips - Wear water resistant sunscreen and sunglasses. The sun hits hard when you are on the ocean. Don't venture too far. Always stay close to the coastline for a safer excursion.
Looking for Additional Maui Hawaii Activity Ideas?
You can search for additional Things to Do in Maui by themes, categories or popular destinations on this page.
To see a complete listing of Maui Activities, you should visit the All Maui Hawaii Things to Do page.
Maui is not enough? Find and book the best attractions in Hawaii: Oahu, Big Island, Kauai and Maui. All Hawaiian islands are covered.
If you are looking for special deals, make sure to visit the Maui Discounts and the Maui Deals page or learn how to find promotions on Maui Hawaii activities using the major online travel agencies.
---