---
Save with Maui Hawaii Coupon Books
Hawaii Entertainment Book Review + Lahaina Cannery Mall Coupon Book Free Download
Here are two Maui Hawaii Coupon Books that can help you save good money during your vacations. The Hawaii Entertainment Book is not free but it is packed with hundreds of coupons worth thousands of dollars. The Lahaina Cannery Mall Coupon Book is free, focusing on shopping discounts. Both coupon books are worth a closer look. Read on.
When looking for money-saving coupons in Maui, the Hawaii Entertainment Book
may be your best option.
The 2012 Edition is Packed with over $15,500 worth of local coupons:
217 Restaurant Coupons
107 Attraction Discounts
133 Shopping Coupons
Over $15,000 in Travel Deals
Movie Ticket Discounts
And much more
When you purchase the book, you get a membership card that you can use at restaurants, hotels and attractions. On top of that, you get access to hundreds of additional coupons that can be downloaded and printed directly from the website. Click on the logo above or visit the Hawaii Entertainment Book Coupons website using this link. Type Hawaii in the search field.
Is the Book worth it for Maui? I would say yes, but it all depends of your travel style. Even if a big part of the coupons target Oahu, it's hard to go wrong with this book. The best way to take a final decision is to know what you are buying. The good news is you can see the complete list of coupons offered in the book, including the specific Maui coupons. Head to the Hawaii Entertainment Book website and use the preview tool.
If your trip to Maui includes a stop in Oahu for a couple of days or more, the deal is even better. Buy the book without hesitation.
---
Is Maui shopping on your plan? Like most travelers, you probably want to do some shopping during your stay on the island. Some just love to shop while others are looking for a couple of nice Maui souvenirs to take home or a few gifts to share with friends and family.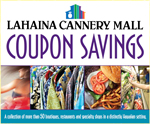 In any case, chances are you will visit Maui shoppers' favorite: the Lahaina Cannery Mall and its 50 shops.
Don't start your shopping spree without this 100% free Lahaina Cannery Mall Coupon Book. It's full of money-saving coupons. Click on the link to download and print.
Looking for Maui Hawaii special souvenirs and gifts? Visit this Maui souvenirs page. You will find plenty of ideas.
---
Have you already decided where to stay in Maui? Is your flight already booked? And what about your car? If you have a hard time deciding what to book, visit the Maui vacation rentals page, the Cheap Airfare to Maui page and the Maui Car Rental page for advice, useful links and discounts.
Make sure to visit the Maui Vacation Packages and the Maui Discounts pages to save extra dollars on your bookings.
Get Maui Hawaii Special Discounts in Your Mailbox
If you want to get the latest Maui Hawaii Coupon, discount or promo code, simply subscribe to the Maui Newsletter and get monthly updates straight to your mailbox. It's quick and easy.
---