---
Spectacular Maui Hawaii Helicopter Tour
Discover Maui Hawaii's Natural Beauty from Above
Are you ready for a Maui Hawaii Helicopter Tour?
You are, but you are also a bit scared, aren't you? That's ok, but you should not worry. Quality helicopter tours are very safe and comfortable (we are talking A-star luxury air-conditioned helicopters here!). And even if I do prefer to explore the island by foot, slowly and quietly, I must admit that discovering the Hawaiian islands from above is a once in a lifetime experience.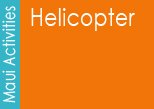 Maui's topography is so amazing that you just don't know where to look. Imagine yourself flying over the gorgeous West Maui Mountains valleys or getting a top view of the world-famous winding Road to Hana with its incredible bamboo forests and countless waterfalls.
And what about flying all the way above the 10 000-foot Haleakala Volcano Crater or heading toward Molokai's stunning sea cliffs and waterfalls? Hard to beat, isn't it?
You can get all of this and even more (like your own DVD of the tour) at a very affordable price if you book early and take advantage of special deals.
Have a look at the following offers and pick the Maui Hawaii helicopter tour that your prefer. To save some good money, pay attention to the ones with a Special Offer! tag. Discounts come and go on a regular basis. Check back often.
You can book your favorite Maui helicopter tour in confidence right from this page when you are ready. Viator is a well-established travel agency that you can trust, selecting only the most experienced and reliable operators and offering the best rates available. The booking process is very simple.
---
Tip - Helicopter tours are generally smooth but wind can cause some turbulence. Eat light to make sure you feel comfortable during the whole trip. And don't forget to bring your camera (with fresh batteries and empty memory cards). If you pay attention to glass reflection, you can take amazing pictures of the island from this unique point of view.
Looking for More Activities?
You can search for additional Things to Do in Maui by themes, categories or popular destinations on this page.
To see a complete listing of Maui Activities, you should visit the All Maui Hawaii Things to Do page.
Maui is not enough? Find and book the best attractions in Hawaii: Oahu, Big Island, Kauai and Maui. All Hawaiian islands are covered.
If you are looking for special deals, make sure to visit the Maui Discounts and the Maui Deals page or learn how to find promotions on Maui Hawaii activities using the major online travel agencies.
---