---
Best Maui Luaus and Lei Greetings
Experience Hawaii's Rich History and Culture
Looking for the Best Maui Luaus? You found it. This page provides the most popular and appreciated luau packages, including the famous Old Lahaina Luau (see complete listing below).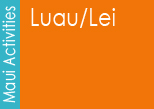 The Hawaiian culture is rich and wonderful. Luaus allow you to experience a part of Hawaii's traditions and history. Discover Polynesian cuisine, music, dancing (traditional and modern Hula) and crafts.
Tip - Select the Traditional Hawaiian Mat seating for a complete experience.
And why not start your Hawaiian vacation the right way with lei greetings Maui style? A fresh-flower Lei greeting will make you feel the Aloha and put a smile on your face. Book it now and enjoy it at your arrival at the Kahului airport. You will appreciate this warm Hawaiian welcome after a long flight, 100% guaranteed!
The following listing provides some of the best Maui luaus packages currently available as well as popular Lei greetings. Pick your favorite and click on the links for more details.
You can book your favorite Maui Hawaii Luau and Lei Greeting in confidence right from this page when you are ready. Viator is a well-established travel agency that you can trust, selecting only reputable partners and offering the best rates available. The booking process is very simple.
---
Looking for Additional Maui Hawaii Activity Ideas?
You can search for additional Things to Do in Maui by themes, categories or popular destinations on this page.
To see a complete listing of Maui Activities, you should visit the All Maui Hawaii Things to Do page.
Maui is not enough? Find and book the best attractions in Hawaii: Oahu, Big Island, Kauai and Maui. All Hawaiian islands are covered.
If you are looking for special deals, make sure to visit the Maui Discounts and the Maui Deals page or learn how to find promotions on Maui Hawaii activities using the major online travel agencies.
---